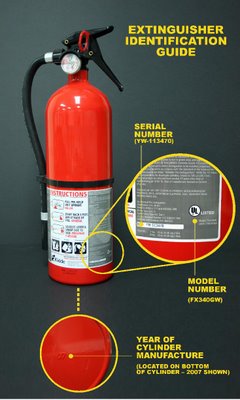 The US Consumer Product Safety Commission recently released information related to Kidde Fire Extinguishers. It is imperative to review this recall information and check the fire extinguishers in your home or business.
Source: CPSC
FOR IMMEDIATE RELEASE
March 12, 2009 Release # 09-151
Firm's Recall Hotline: (888) 345-4407CPSC Recall Hotline: (800) 638-2772CPSC Media Contact: (301) 504-7908
Kidde Recalls to Replace Fire Extinguishers Due to Failure to Operate
WASHINGTON, D.C. - The U.S. Consumer Product Safety Commission, in cooperation with the firm named below, today announced a voluntary recall of the following consumer product. Consumers should stop using recalled products immediately unless otherwise instructed.
Name of product: Kidde XL Fire Extinguishers
Units: About 167,000
Distributor: Walter Kidde Portable Equipment Inc., of Mebane, N.C.
Hazard: The pressurized cylinders in the recalled fire extinguishers could lose pressure and fail to operate. In the event of a fire, this failure could put a consumer and property at risk.
Incidents/Injuries: None reported.
Description: This recall involves the Kidde XL Fire Extinguishers with model numbers FX340SC, FX340H, FX340GW, XL5MR, FX210R, FX340SC-2, FX210W, XL2.5TCZ-4, E-340-3 and with manufacture dates between October 2007 and April 2008. "Kidde" and the model number can be found on the label on the front of the extinguisher. The manufacture year is on the bottom of the extinguisher. If your extinguisher is one of the listed model numbers and is marked with the year 07 or 08, contact Kidde to determine if you have a recalled extinguisher.
Sold at: Department, home, and hardware stores nationwide from October 2007 through April 2008 for about $35.
Manufactured in: Mexico
Remedy: Consumers should immediately inspect the pressure gauge. If it points to the red zone, contact Kidde to receive a free replacement extinguisher. If the gauge is not in the red zone, but you have questions about an extinguisher within the listed model numbers, please contact Kidde for additional information.
Consumer Contact: For additional information, contact Kidde at (888) 345-4407 between 8 a.m. and 5 p.m. ET Monday through Friday or visit the firm's Web site at
www.Kidde.com
---
Advanced Restoration Corporation is a family-owned and operated full-service property damage restoration company with a combined 75 years experience in dealing with Fire Damage Restoration, Water Damage Restoration, Flood & Storm Damage, Mold Remediation, Smoke Damage Restoration and Reconstruction. We service Long Island (Nassau County, NY; Suffolk County, NY) and the New York Metro area.
When disasters strike, Advanced Restoration is ready to respond 24 hours a day, 7 days a week. You are guaranteed to speak with one of our knowledgeable, caring team members, day or night. Our immediate response to a claim/property loss helps minimize the damages to the structure, contents, and ease the sometime catastrophic effect that a disaster may have on an owner or occupants. Our company is dedicated to serving our clients with courteous and prompt service. We take the utmost pride in the craftsmanship of our work.
As certified specialists in water mitigation and fire/smoke restoration, we have the knowledge, expertise and experience to deal with all types of property damage. Our professional staff is also trained in all aspects of mold remediation and damage appraisals. Service area: Nassau County, Suffolk County and the NY Boroughs. Advanced Restoration is now a member of DKI.