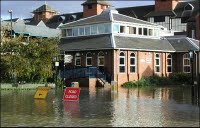 DISASTER MITIGATION... BUYING INSURANCE
By Chris Floyd Disaster Services Director Capital Area Chapter American Red Cross
Even with adequate time to prepare for a disaster, you still may suffer significant, unavoidable damage to your property. That's when insurance for renters or homeowners can be a big help. Yet, many people affected by recent disasters have been underinsured- or worse- not insured at all. Make sure the insurance you buy protects against the perils you face.
If You Own a Home...
Buy, at minimum, full replacement or replacement cost coverage. This means the structure can be replaced up to the limits specified in the policy.
Investigate buying a guaranteed replacement cost policy. When and where available, these policies can pay to rebuild your house, including improvements, at today's prices, regardless of the limits of the policy.
Have your home periodically reappraised to be sure the policy reflects the real replacement cost.
Update the policy to include any home improvements, such as basement refinishing. Annual automatic increases may not be enough to cover these.
Buy a policy that covers the replacement cost of your possessions. Standard coverage only pays for the actual cash value (replacement cost discounted for age or use).
Be very clear about what the policy will and will not cover, and how the deductibles work (the part you pay before the policy pays).
Check state-operated or federally operated insurance pools if you find it difficult to obtain private coverage because of a recent disaster. Premiums often run higher than market rates, but this is better than no coverage.
Conduct a home inventory, make a list, and use it to check that your policy's coverage matches the value of your possessions.
If You Rent...
Buy renter's insurance, which pays for damaged, destroyed, or stolen personal property. Your landlords insurance wont cover damage to or loss of your possessions. Also, consider special coverage like flood insurance for your belongings.
Be clear about what a policy will cover. Some policies cover more than others. For example, will the policy pay for living expenses if you have to live somewhere else temporarily, or for damage from sewer backup?
Comparison shop for the best coverage at the best price. Policies vary from company to company. Policies in most areas are very affordable. Start with the company that insures your car. Discounts are often available if you carry more than one policy with a company.
You may also want to consider special coverage as insurance for renters and homeowners won't cover certain types of losses. Ask your insurance agent or financial planner about special or additional coverage for floods, earthquakes, home offices, and other potential problems.
---
Advanced Restoration Corporation is a full-service property damage/disaster restoration company that has been serving Long Island and the New York metropolitan area for over 20 years.
The company offers the highest quality residential, commercial and industrial property restoration and remediation services available. Our qualified and professional staff is capable of handling all aspects of fire & smoke damage, mold remediation and water damage. Emergency response teams are available 24/7 to promptly execute the required services for a customer.
Advanced Restoration is a member of multiple industry associations, including NYARM, BOMA, PIA, YIP, IICRC, NARI, NIDR and RIA. We are licensed in Nassau and Suffolk County, as well as the five boroughs of New York City.
Please contact Gary Matzelle at (516) 903-4107 with any questions, or send an email to gmatzelle@advancedrestoration.com. Our corporate website can be viewed at www.advancedrestoration.com.