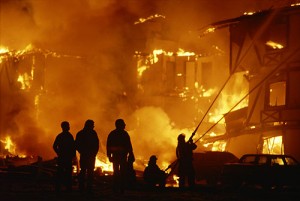 Contact:Brenda O'Connor
(813) 675-1043
boconnor@ibhs.org
TAMPA – Large and small businesses alike are having a difficult time in the current economy and the Institute for Business & Home Safety (IBHS) is concerned many may not be open for business if disaster strikes.
According to the Association of Contingency Planners, Business Continuity Awareness Week was June 21-27, and IBHS wants business owners and managers to take advantage of free resources that are available to create business continuity plans that can help keep operations running when the unexpected happens.
In addition to minimizing the impact of severe weather events or problems such as a water main break or regional power outage, business continuity planning requires a thorough assessment of operations, which often yields additional benefits including opportunities to streamline functions or identifying areas for cost reductions.
IBHS outlines the following five steps to begin safeguarding operations:
Record basic information for employees, ownership, suppliers, vendors and key contacts.
Identify critical business functions (i.e., what is required to maintain income, keep a competitive advantage, and meet regulatory or contractual obligations?).
Scout alternate locations (i.e., where is the best site to resume operations?).
List what is needed to fulfill critical business functions at an alternate location, including records, critical telephone numbers, e-mail addresses, equipment, machinery and vehicles.
Identify equipment and services that workers will need, such as computer equipment and software, voice and data communications, and required office supplies.
The IBHS Open for Business® suite of resources is available in multiple formats on DisasterSafety.org and includes worksheets and checklists to help with development of your plan. There also is an online training series for those who prefer being walked-through the process one step at a time, with an option for reminder e-mail messages to keep planning on track.
---
Advanced Restoration Corporation is a family-owned and operated full-service property damage restoration company with a combined 75 years experience in dealing with Fire Damage Restoration, Water Damage Restoration, Flood & Storm Damage, Mold Remediation, Smoke Damage Restoration and Reconstruction. We service Long Island (Nassau County, NY; Suffolk County, NY) and the New York Metro area.
When disasters strike, Advanced Restoration is ready to respond 24 hours a day, 7 days a week. You are guaranteed to speak with one of our knowledgeable, caring team members, day or night. Our immediate response to a claim/property loss helps minimize the damages to the structure, contents, and ease the sometime catastrophic effect that a disaster may have on an owner or occupants.