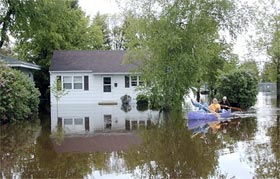 Anywhere it can rain, it can flood!
Last week, Newsday featured an article on Suffolk County's new flood maps, which indicated a 14.9% reduction in flood zones across the county. That's good news for some property owners, since they will no longer be required to purchase flood insurance.
Flooding can be caused by heavy rains, inadequate drainage systems, as well as tropical storms and hurricanes. It is important to understand the flood risks you face before deciding whether to purchase flood insurance. Many people are unaware that most homeowners insurance policies do not protect them against flood damage. Property owners, renters and business owners may purchase flood insurance.
Low-cost flood insurance is available under the
National Flood Insurance Program (NFIP), a federally backed program managed by the Federal Emergency Management Agency (FEMA). The goals of the program are twofold: to protect communities from potential flood damage through floodplain management, and to provide people with flood insurance. Under the program, coverage may be purchased for most buildings as long as the property is located in a community that participates in the NFIP (most communities in New York State participate).
Flood insurance protects you from the financial devastation caused by floods. Even a few inches of water can bring thousands of dollars in repair and restoration costs. Flood insurance, like earthquake insurance, is "single peril" insurance, sold separately from homeowners insurance. Flood insurance protects against losses to buildings and their contents, not the land surrounding them. The coverage applies whether the flooding results from heavy or prolonged rains, coastal storm surge, snow melt, blocked storm drainage systems, or other causes. To be considered a flood, the waters must cover at least two acres or affect at least two properties.
For decades, the NFIP has been offering flood insurance to homeowners, renters and business owners, with the one condition that their communities adopt and enforce measures to help reduce the consequences of flooding.
Flood insurance is the best protection that home and business owners have against the devastating financial losses that floods cause.
For more information, contact your insurance agent or insurance company